Description
Breast Reconstruction
Breast reconstruction is a surgical procedure that attempts to bring the breast to normal size and shape following mastectomy for Breast Cancer.
You may have a flap reconstruction in which the surgeon will use your own muscle, fat, and skin. You will have a linear incision across your belly similar to a tummy tuck. While both the new breast and belly will have pain, most will come from the belly. This type of reconstructions can be referred to as Free Flap (DIEP, SGAP) or Pedicle TRAM Flap. Another reconstruction option is to have tissue expanders or implants placed to create the new breast. In this case there is no surgery on the belly and pain will come from pressure on the chest wall. You should talk over with your surgeon which procedure is best for you.
The most common method of controlling post-operative pain is through the use of narcotic medication.  This can be taken by mouth or from a PCA pump which administers narcotics through an I/V.  Some hospitals or surgeons may use a pain pump to provide numbing medicine to the surgical site from a catheter placed in the body.  In either situation you will still potentially be faced with side effects of the narcotics which may include nausea, dizziness, drowsiness, vomiting, dehydration, etc.
With SofPulse, there is an improved way to manage the pain and help you recover from reconstruction faster.
Less Pain
Less pain medication and associated side effects
Faster and more comfortable surgical recovery
This is accomplished with a device placed over bandages and perhaps even outside your surgical gown.
Cosmetic Surgery
Cosmetic surgery includes surgical and nonsurgical procedures that reshape structures of the body and face in order to improve appearance and self-esteem. SofPulse has been used in cosmetic surgery performed in the surgeon's office, in hospitals, in outpatient surgery centers or even in ambulatory surgery centers and medical spas. SofPulse is becoming standard of care for reducing discomfort, pain and swelling.
SofPulse Decreases Pain
Patients who use SofPulse therapy report half as much post-procedure discomfort as patients who do not use the therapy.5,6
SofPulse Reduces Swelling
SofPulse enhances the release of the signaling molecule nitric oxide, which is involved in the anti-inflammatory process and therefore helps to reduce pain..
SofPulse Reduces the Need for Prescription Medications
Because patients experience far less pain when using SofPulse, they also require far less prescription medications. Studies have shown a greater than 2.2-fold reduction in narcotic use over the first 48 hours post-procedure.
Although inflammation is a natural and necessary part of the healing process, the pain that accompanies the inflammation can be debilitating.  The most common method of controlling pain is through the use of narcotic and anti-inflammatory medication.  Narcotics have many side effects including nausea, dizziness, drowsiness, vomiting, lower limb weakness, dehydration, etc.   Some types of anti-inflammatory medication actually slow the body's natural process of healing.7
Pain Reduction in Early Knee Osteoarthritis
Non-invasive electromagnetic field therapy produces rapid and substantial pain reduction in early knee osteoarthritis: a randomized double-blind pilot study
Nelson FR, Zvirbulis R, Pilla AA
Published 2013 in Rheumatology International – DOI: 10.1016/j.joca.2012.02.265
Abstract
This study examined whether a non-thermal, non-invasive, pulsed electromagnetic field (PEMF), known to modulate the calmodulin (CaM)-dependent nitric oxide (NO)/cyclic guanosine monophosphate (cGMP) signaling pathway, could reduce pain in early knee OA. This randomized, placebo-controlled, double-blind pilot clinical study enrolled 34 patients. Patient selection required initial VAS ≥4, 2 h of standing activity per day, and no recent interventions such as cortisone injections or surgery. Results showed VAS pain score decreased in the active cohort by 50 ± 11% versus baseline starting at day 1 and persisting to day 42 (P < 0.001). There was no significant decrease in VAS versus baseline at any time point in the sham cohort (P = 0.227). The overall decrease in mean VAS score for the active cohort was nearly threefold that of the sham cohort (P < 0.001). The results suggest that non-thermal, non-invasive PEMF therapy can have a significant and rapid impact on pain from early knee OA and that larger clinical trials are warranted.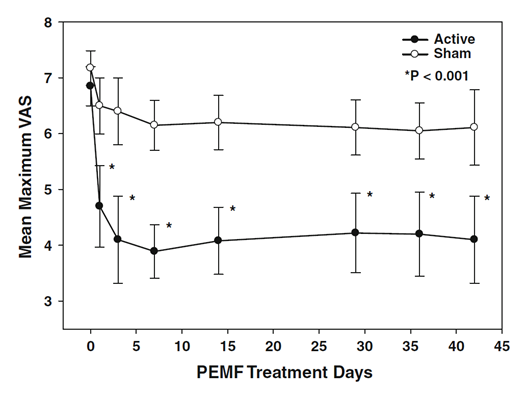 A survey conducted by the American Hospital Association reports that 7 out of 10 hospitals have seen a decline in their financial health over the recent years. Demand and hospital expense is increasing but reimbursement is declining and there are fewer donations/investments being made. In order for a hospital to maintain viability, they must focus on improving patient care and reducing operating expense.
Management of pain is a central issue in the delivery of high quality patient care. Intravenous patient-controlled analgesia (IV PCA) with opioids is common; however it carries significant risks and costs. The cost of IV PCA errors was $388 million in 200416. A product that allows for accelerated post-surgical recovery and a decrease in post-op pain and narcotic use may reduce the risk of these IV PCA errors and may also reduce hospital length of stay and save the hospital an average of $1,000/day.17,18,19
SofPulse provides a solution that will improve patient outcomes and provide operational and financial benefits to the hospital. SofPulse facilitates the natural recovery process with improved outcomes and reduced cost.